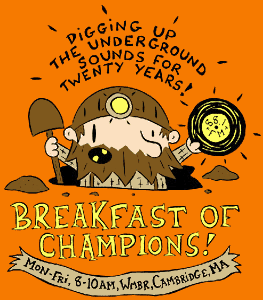 We had a contest in September to celebrate our 20th anniversary. Thanks to everyone who took the time to enter. Below are the rules and results..
---
20th Anniversary
Contest!
Name as many of the bands and song titles from the clips below as you can.
Get half-credit if you name only a band or a song title.
The 20 highest scoring entries win a Breakfast of Champions Special Edition 20th Anniversary T-Shirt (design above).
The top scoring entry will be given the opportunity to host an hour of the Breakfast of Champions.
Ties will be broken by a random drawing.
All entries must be received by September 30, 2003.
All submissions should be sent via email to
Listen to the Breakfast of Champions every weekday morning in September for hints.
WMBR station members, their families, and their "significant others" are not eligible.
Only one entry per person.
Listen to the entire contest announcement or check out the individual clips. To see the answers, click on the "show answers" button. Bands and song titles will automagically appear in the bottom of this browser window when you place your curser over each clip's link. Clicking on the button again will hide the answers: